the best fill-in-the-blank solution for your résumé and cover letter that will help you stand out in your job search
Many nursing professionals understand that it's crucial to stand out against other applicants, but there's a huge problem.
The problem is… they are hitting submit and sending their résumé into a black hole.
And that résumé and cover letter?
It's just something they quickly threw together after googling "nurse cover letter examples."
And what's even worse, is that they are missing out on their dream jobs. Jobs they would actually be passionate about. Because they can't get anyone to call them in for an interview. So they end up trying for ANY job, rather than THE job, because after hitting submit so many times and hearing crickets…
Most start feeling a little bit desperate.
Nurses (and students!) just don't have time to fiddle around writing résumés and cover letters when there are exams to be taken, lives to be saved, money to be made…am I right?
That's why I'm offering you instant access to all my nurse résumé templates worth $120…
For only $37!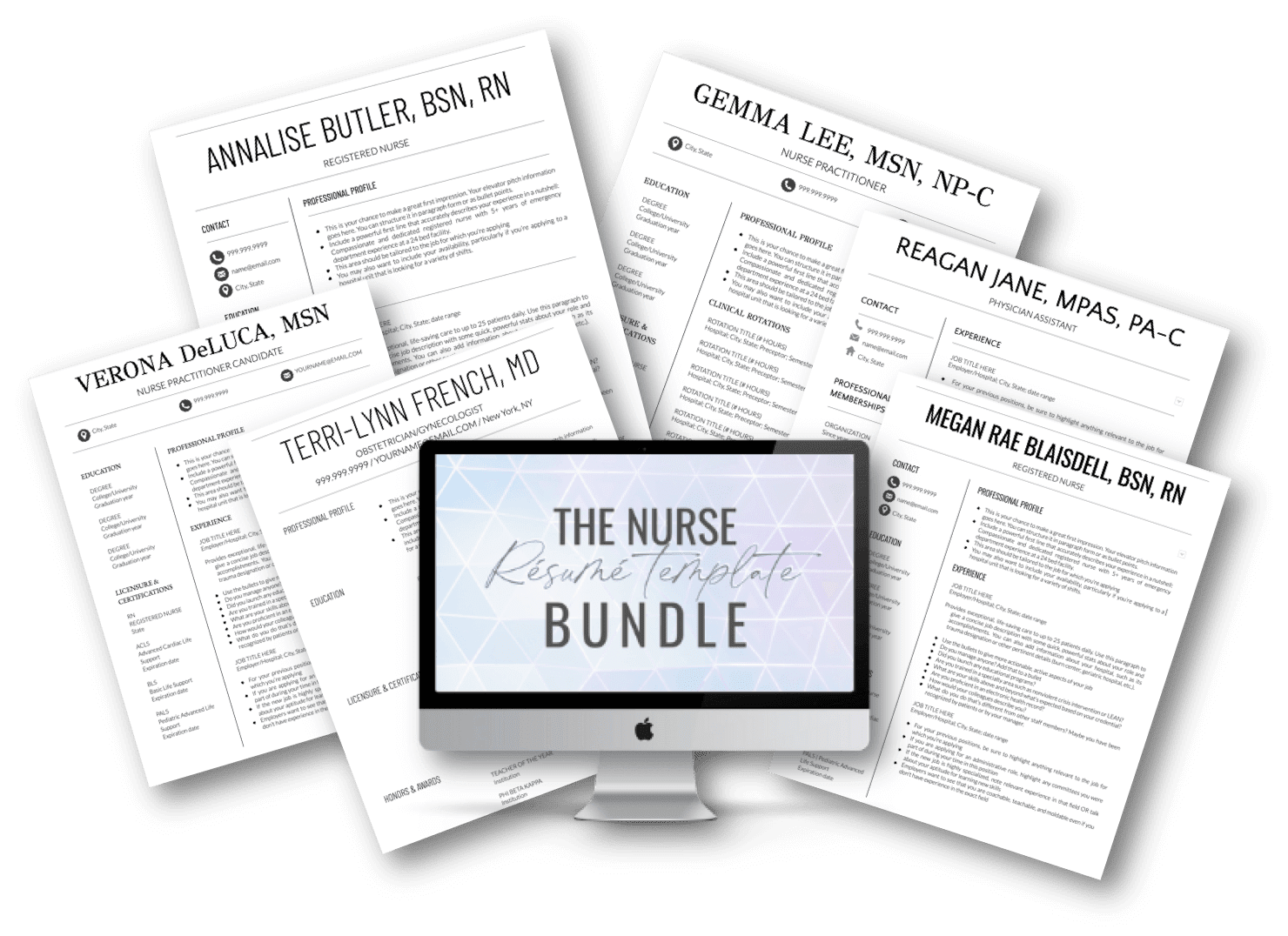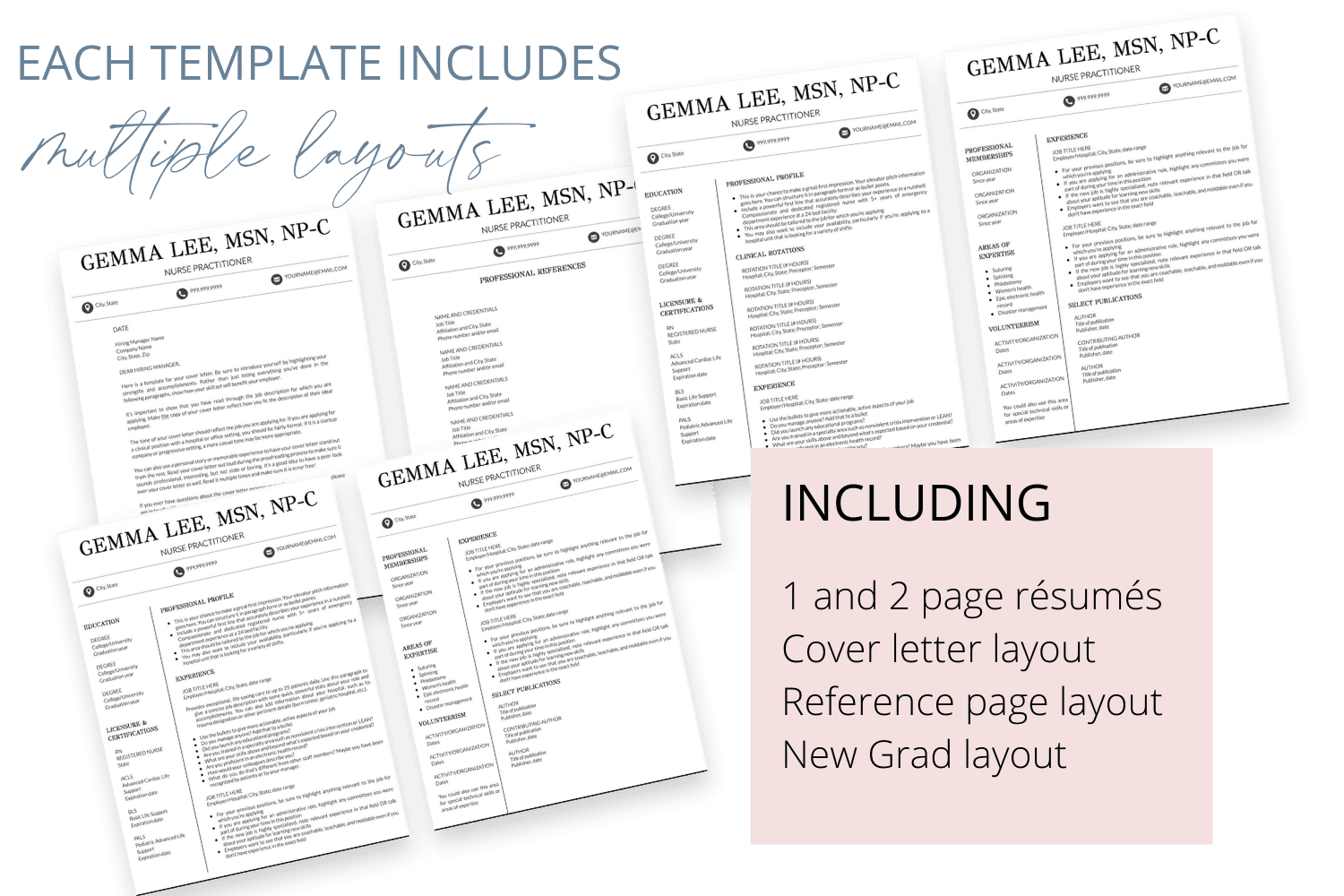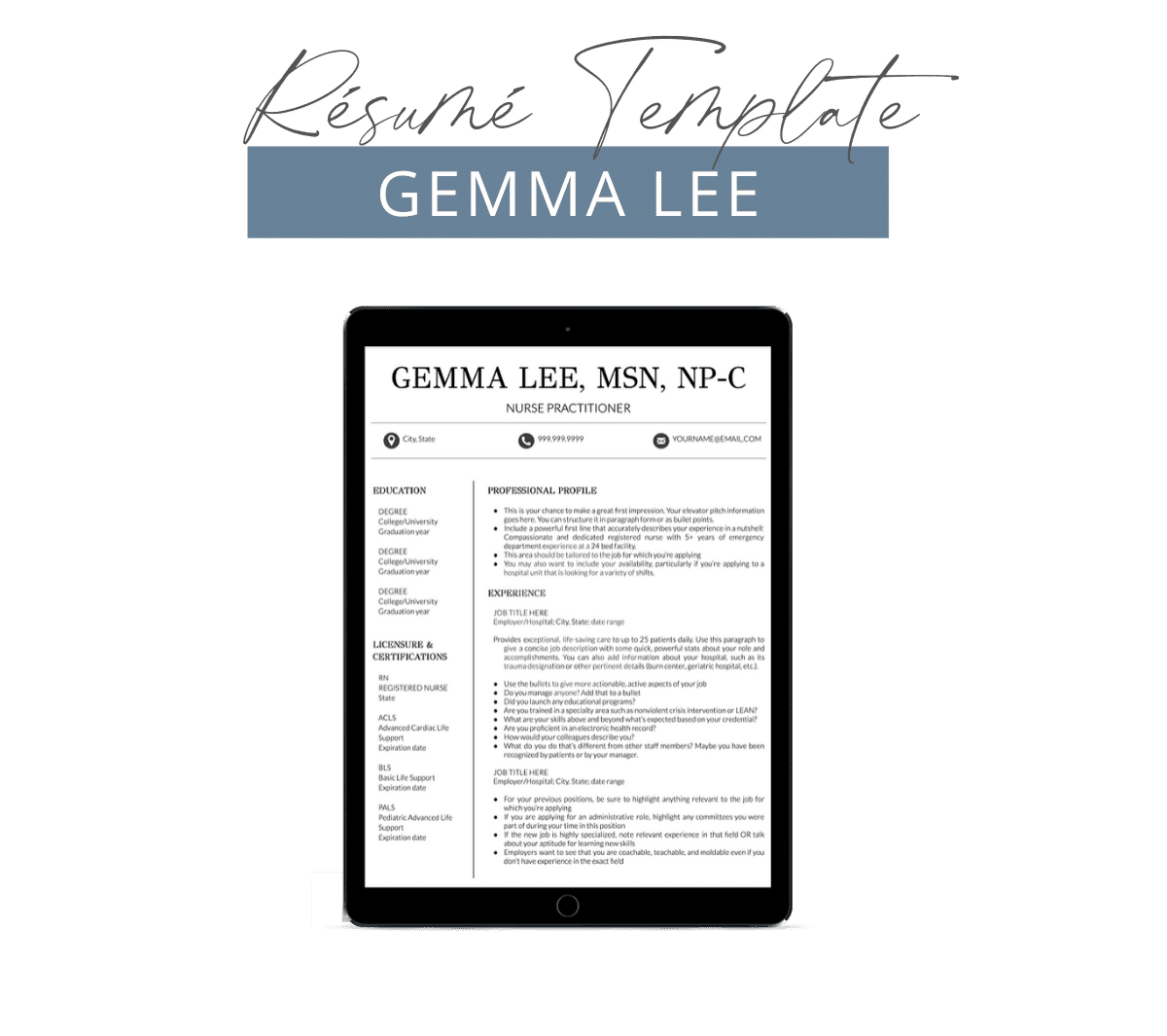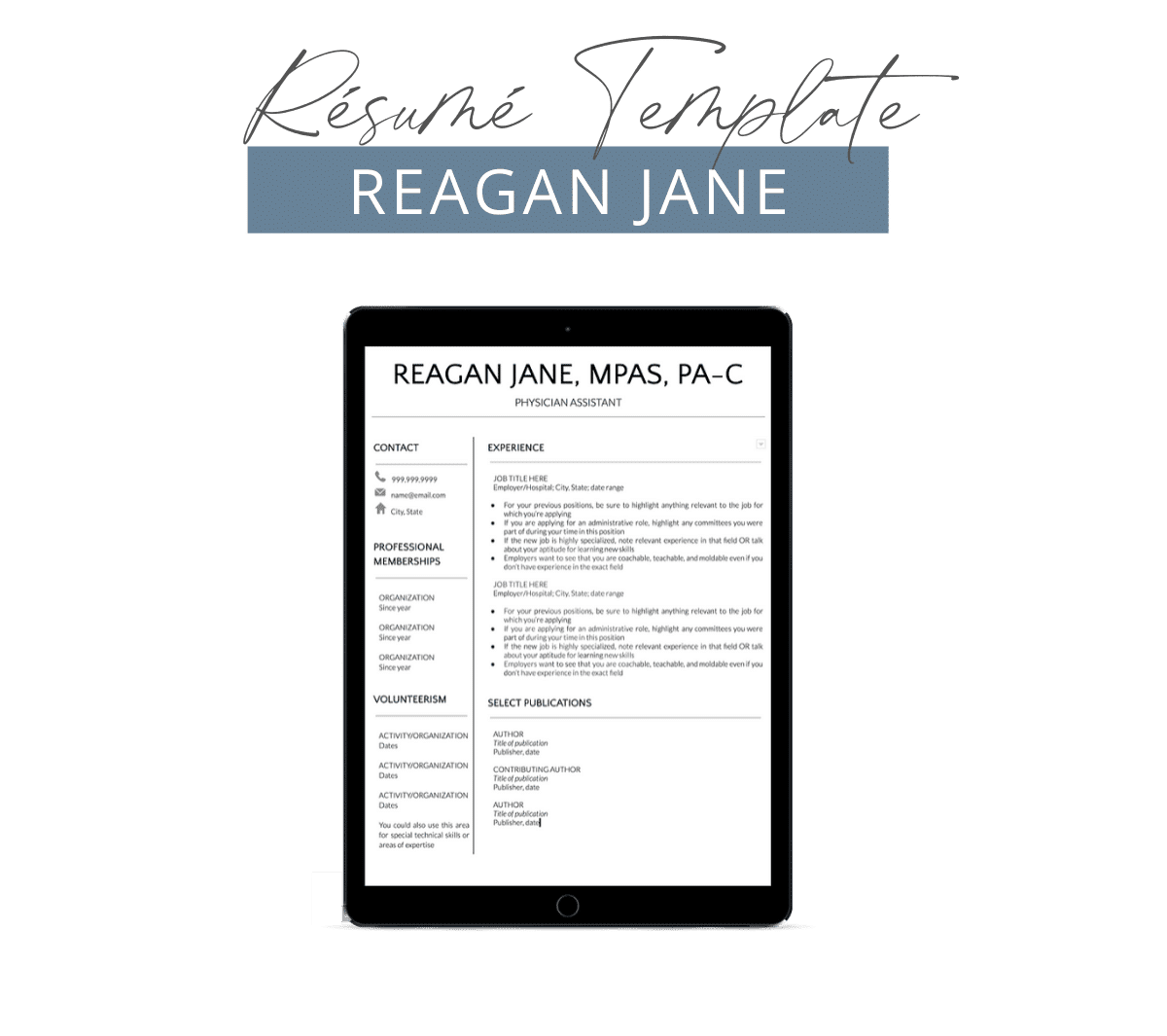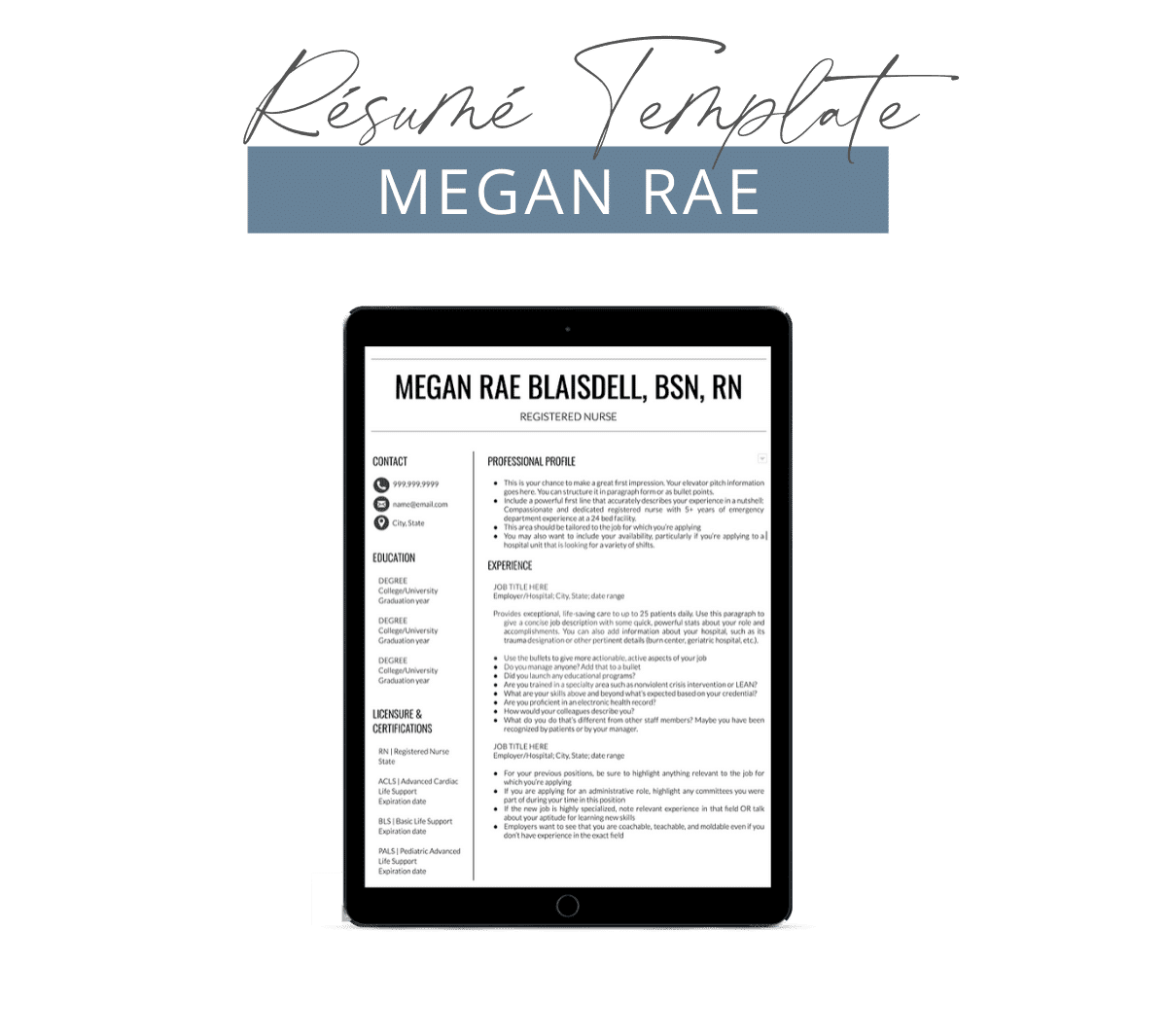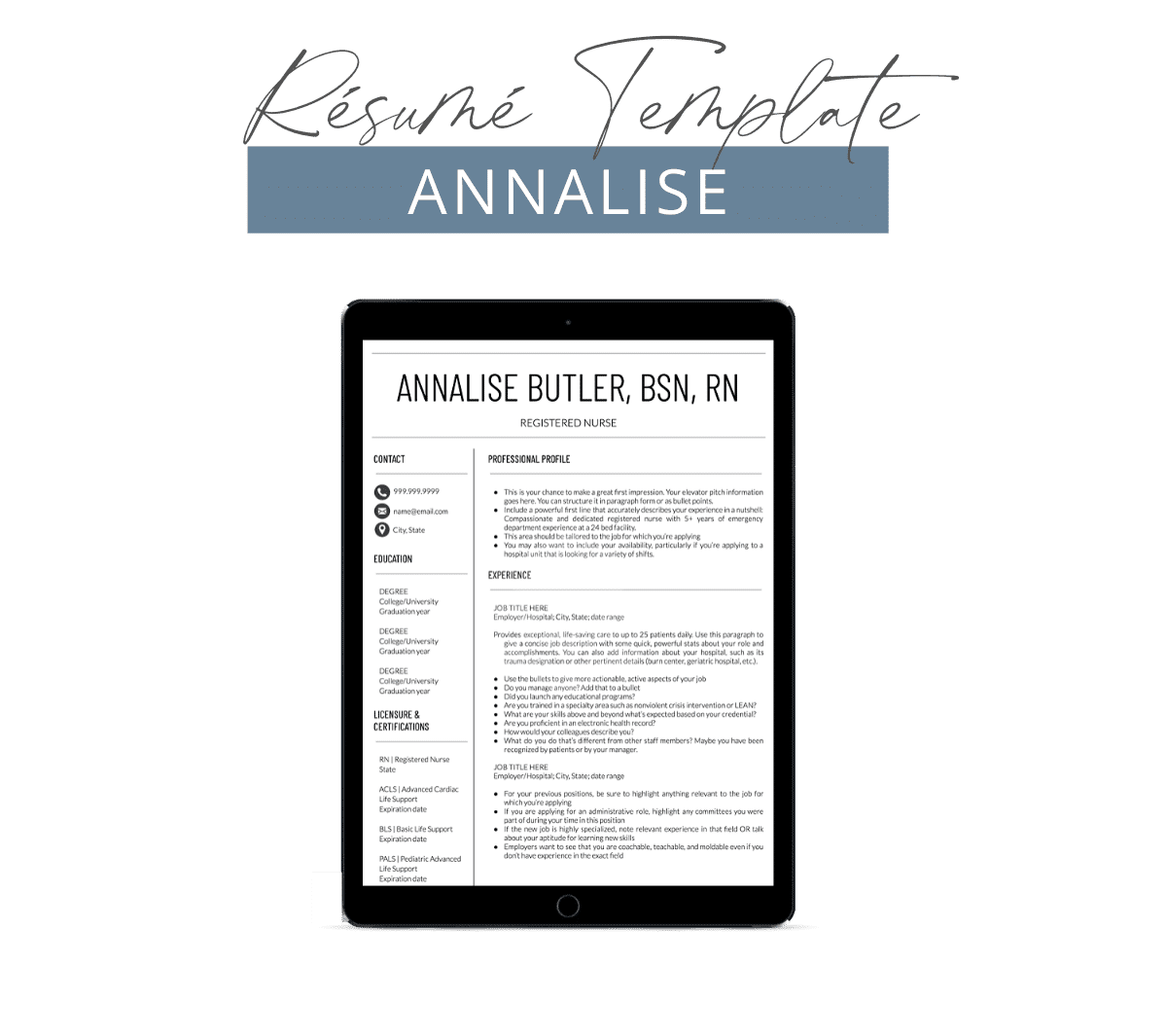 The Nurse Résumé Template Bundle
Here's what you get:
6 template designs to choose from (all are included in this single purchase!)

Each includes a new grad layout with a section for clinical rotations

Completely customizable to your achievements

Prompts for each section

Includes a matching cover letter template and reference list template
Plus…three amazing bonuses!
Credential Organization System
Your answer to keeping all your professional info in one place so that you're never digging through your papers for a copy of your license again or waking up in a cold sweat wondering if you missed your CPR renewal deadline. Having organized credentials is one of the secrets to writing your résumé quickly.
ats crash course & templates
BEAT THE BOTS! This training gives an overview of what the Applicant Tracking System is and how to beat it. Includes two extra-ATS-friendly résumé templates
job application tracking system
The fortune is in the follow up…if you can keep your applications straight. This training will explain two different methods for keeping track of your job applications. Templates included for each method.
Imagine hitting submit or send on those job applications and feeling confident knowing that multiple employers will be calling you for an interview.
How would it feel to go on a handful of interviews and then have the ability to choose the position that's best for you, rather than taking the only offer you get?
Imagine feeling your best, looking your best, and having a gorgeous résumé in hand as you walked into multiple interviews.
How would your nursing career be different if you could:
➞ Decide when to make job changes based on your interests rather than desperation?
➞ Work in the specialty you're passionate in rather than working the obligatory years in a certain unit "paying your dues?"
➞ Make the strategic career moves that make you happier and boost your salary?
➞ Easily curate your nursing career working as much or as little as you'd like?
You may have been sending your résumé into the black hole, without a single response…until now.
You feel like you've tried everything, from applying to every job to using google searching résumé examples for hours.
You have a tightness in your chest, knowing that the longer you stay in the job you have, the closer you'll be to burning out.
Or that the longer you stay unemployed, the harder it will be to get a job.
You don't have any more time or money to waste on things that aren't working.
There's a secret behind those who land their dream jobs, and it's time for you to be let in on that secret.
Unlike other templates you may have seen, these templates come with prompts to make sure your résumé is gorgeous AND passionate.
You deserve to have a résumé and cover letter that showcases exactly why you are the right person for the job!
Never again lose out on the opportunity to interview because your résumé got lost in the stack.
➞ I don't just teach this stuff. I actually do it for myself AND for others. I use these exact templates for my personal résumé and cover letter and for my one-on-one clients as well.
➞ I'm not just some résumé writer or graphic designer – I'm a nurse practitioner with almost 10 years of experience. I've been a new grad, I've pivoted, I've negotiated, and I want to pass on lessons from my success to YOU.
➞ I've had more than 1600 template customers and have worked with hundreds of custom clients to help them land their dream jobs. I'm totally committed to you getting THE job, not just ANY job.
➞ I'm a genuinely good human. Seriously. I'm a true mama bear, with 3 little kids of my own and lots of nurses who I consider my little sisters. (I'm not yet old enough to be YOUR mom!) I've had a taste of what it's likely to curate my career and design it around what's important to me as a person, and I want that for you, too.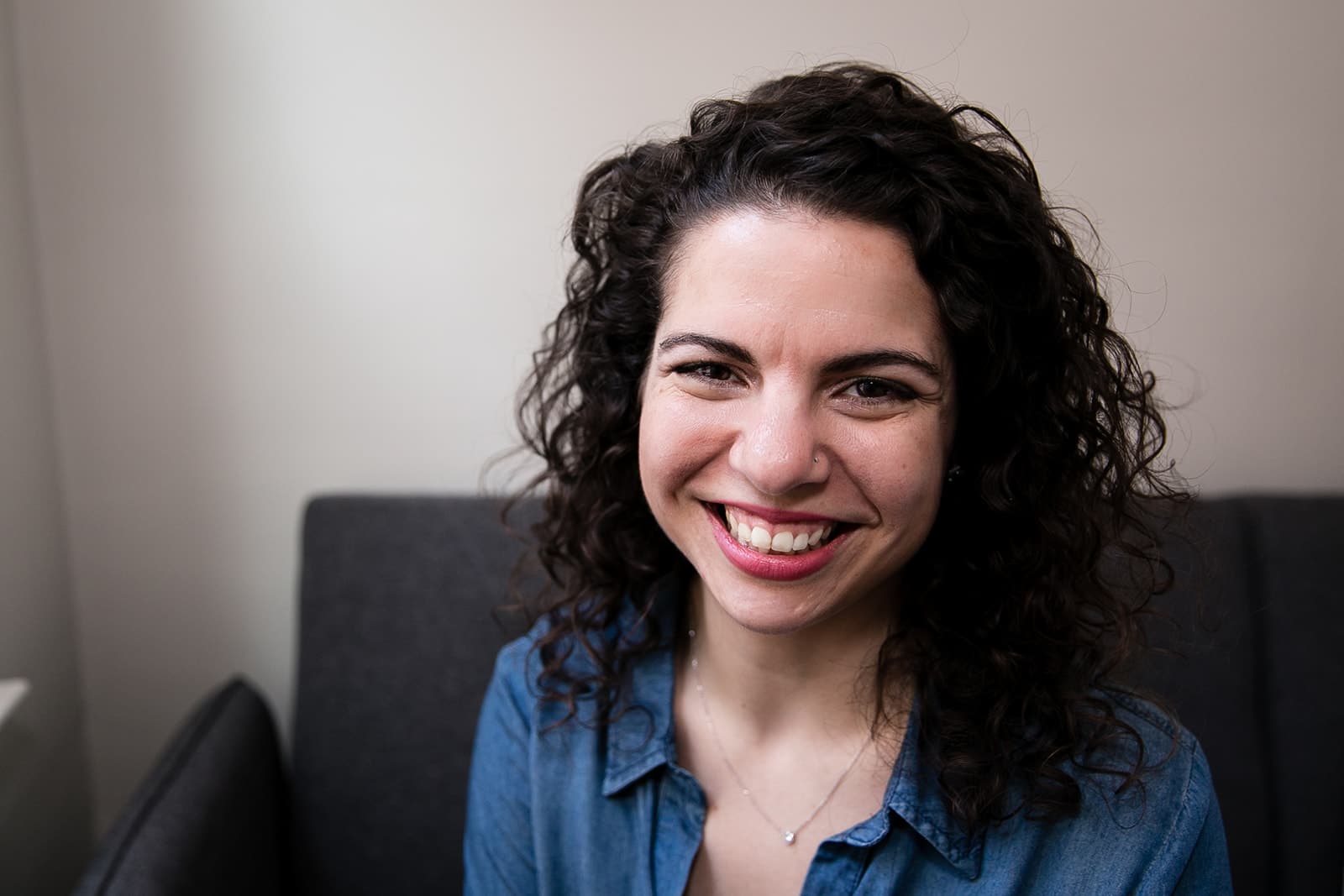 Curious about me?
Hi, I'm Amanda – a mom of three by day and ER nurse practitioner by night. I trained at Yale and superb grammar is my love language.
I have an eye for results-based design that is clean, modern and memorable – and I believe that anyone can make a winning first impression with just your résumé and cover letter.
If you want to show your future employer from the first moment that you are so much more than the letters after your name, then I can help.
Since the birth of The Résumé Rx in 2018, I have helped more than 2000 nursing professionals stand out and move up in their careers.
Will you be next?
9+
years of clinical practice as a nurse practitioner
Featured on
NurseGrid, the NursePreneur Podcast, Your Next Shift Podcast, KevinMD.com
10,000+
résumé templates sold
200+
custom résumé and career mentoring clients
➳

You're ready for this template bundle if you are…
Passionate about landing the nursing job of your dreams
Done making excuses about why you're not ready to apply to a better opportunity
Sick of seeing others move on and up, leaving you behind
Ready for this process to be easier
✖

The bundle is NOT for you if…
Deep down you don't believe you deserve your dream job
You're not an action taker
You like staying comfortable where you are
You're not willing to take the time to do your best work
FREQUENTLY ASKED QUESTIONS
what's included in my rÉsumÉ template purchase?
When you purchase one of the templates above, you will 6 different template designs, which include the following layouts in 3 formats (Word, Pages, Google Docs):
-1 and 2-page résumé template options
-1 and 2-page new grad résumé template options
-Reference list and cover letter template
-Font files
-Detailed, easy to follow instructions
-Excellent customer service from a nurse practitioner (me!) who wants you to land the job of your dreams.
how exactly does the purchase process work?
-Click the button above or below to be taken to the checkout page. No need to choose your favorite template design; your purchase includes all six!
-After completing your purchase (via PayPal, debit/credit care, or Apple Pay) you will receive an e-mail with access to all of your documents.
-Choose the format you wish to work with (Word, Pages, Google Docs), and follow the corresponding instructions.
-DIY your résumé by entering your text over my place holder text.
-Change anything you want within the template: font, font color, lines, colored areas.
what's required to use one of the templates?
Word/Pages versions:
-A desktop or laptop computer (Mac or PC) and ability to install fonts if you are using a shared/public computer
-Microsoft Word or Apple Pages (free for Mac users!)
-Unzipping software (included on Macs and most PCs)
Google Docs (my preferred method!):
-A device with internet access and the ability to connect to a printer.
how do i know if i need a rÉsumÉ or cv?
Loaded question! Just kidding…
For the most part, we in the U.S. tend to use these terms interchangeably.
My résumé templates are robust and because of the layout are able to fit in a lot of complementary information that traditionally you may only find on a C.V.
Most clinical folks will need a résumé only. However, if you are in academics, involved in research, or have an extensive advanced practice work history with more than just clinical positions (think: faculty appointments, published papers, etc), you may be happier with a more traditional C.V. style layout.
What's your refund policy?
If you have technology issues, please reach out to my team at stat@theresumerx.com. If I am unable to troubleshoot your problem (which may involve using another included version, such as Google Docs), I will refund your purchase 100%.
As much as I would love to guarantee that this template will land you the job of your dreams, the ultimate outcome is beyond my control 😉
can you just write my résumé for me?
This is a service that we no longer offer as it has evolved into our step-by-step résumé and cover letter tutorial program – Weekend Résumé Makeover!