You may have ideas that pop into your head of what you want your professional career as a nurse to look like, but how do you make those ideas actually happen?
The answer is visualization and professional goal setting.
I strongly believe that visualizing your professional goals as a nurse (and writing them down) can help you manifest them into existence.
It's a good idea to start by reflecting a bit on the past.
What went really well for you over the past year in your career? Did you hit any major milestones? Did you learn that you have a love for teaching, or a specialty, or a certain patient population?
Reflection is the launching pad for growth in my opinion. As Marshall Goldsmith said (and wrote a whole book about!):
What got you here won't get you there.
Let that sink in for a minute. Got it?
Okay, let's get into the step-by-step process for how to set professional goals as a nurse that you can stick with! 
Step 1: Take time to dream and make a wish list for your professional goals as a nurse
First, I want you to set a timer for 5 minutes so that you can think of all your professional and personal dreams.
You're going to break them down by time frame into a brainstorming map, like this one:
-3-6 months
-1 year
-5 years
-Lifetime
You can choose to focus on only your career/professional wishlist, but you may want to include some personal goals in there too. I say this because many of these goals will be interrelated! For example, if you have a personal goal of paying off your student loans, this may require you to increase your income in some way.
I also encourage you to think of this wish list as not only what you want more of. You may have a wishlist of wanting less of something.
Sure, you may want more money, a promotion, more committee activities, an advanced degree, etc. But you also may wish for working less overtime, not overextending yourself and dropping some committees, or maybe you want to retire altogether or drop to part time.
No need to overanalyze during this step. Just get it all out of your head and let the ideas flow.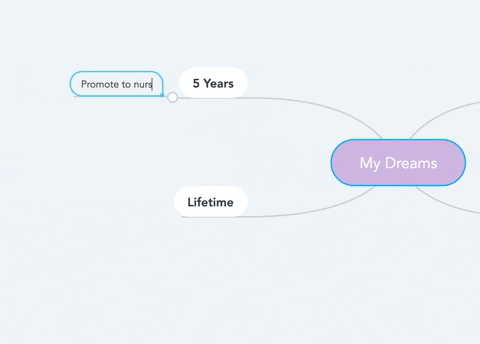 Step 2: Prioritize and narrow down the dreams
Next, I want you to go back to each time frame section and circle the one dream or goal that would have the most positive impact on both your life and your career.
Write the other dreams down somewhere and keep them safe!
Step 3: Create a Plan for Each Goal
Next, for each goal, you're going to create a plan.
Starting with the 3-6 month goal, create another brainstorm web with the goal in the middle and add everything that needs to happen in order to achieve that particular goal.
Next, prioritize them in the order that they need to occur
Set dates and deadlines for each step
Get to work!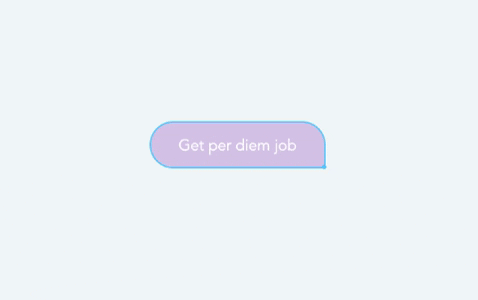 Repeat the above steps for your 1 year, 5 year, and lifetime goals.
Step 4: Stay Motivated as You Work Towards Your Professional Goals as a Nurse
Okay, now that you have everything planned out, you have to actually do the work! It can be fun to plan, and honestly sometimes planning can detract from actually doing. Planning is important but you actually get things done by doing the thing!
So, how do you stay on track?
The answer to this question is going to be highly individualized and based on what motivates you.
Tips to stay Motivated to Reach Your Professional Goals
Rewards
Just like a puppy who will sit for a treat, I will get things done for a prize. Even if it's self-imposed. These rewards do not have to be related to your goals. But they can be! Maybe you will treat yourself to a new stethoscope when you reach your next clinical ladder step. Or perhaps you'll register for a national conference when you get that promotion.
Affirmations
Usually people have some pretty strong opinions about affirmations. Affirmations are phrases or sayings that you write or tell yourself to help you transform. They say that before you have the thing, you have to be the person who has the thing.
You might consider incorporating some of the following affirmations:
I am the engine of my career success.
Money flows freely to me.
I am the director of my career and my success.
I am excited to have this job and all it is teaching me.
Visualization Time
If you are a truly visual person, you might consider setting aside time regularly to visualize what your goals look like. This could be closing your eyes and visualizing in your mind's eye. It could be creating a dream board with photos or magazine clippings that you hang in your office. Or it could take the form of a Pinterest board online.
Accountability Buddy
One of the biggest motivators for me is being accountable to someone else for my tasks and goals. I wish I could say that being accountable to myself is enough, but hey, here we are.
This could be a colleague who also has a professional goal he or she is working towards. It could be a bestie, a partner/spouse or a sibling. You could even use technology to automate your accountability.
"Alexa, remind me to work on my grad school statement every Monday."
Hopefully this has given you some ideas on how to set professional goals and dreams for 2020 and beyond! Dreams become more real when you say them out loud or write them down – so go ahead and write one in an instagram story and tag me!
We would love to see your dream of becoming a nurse come true, click here to brush up that résumé of yours!