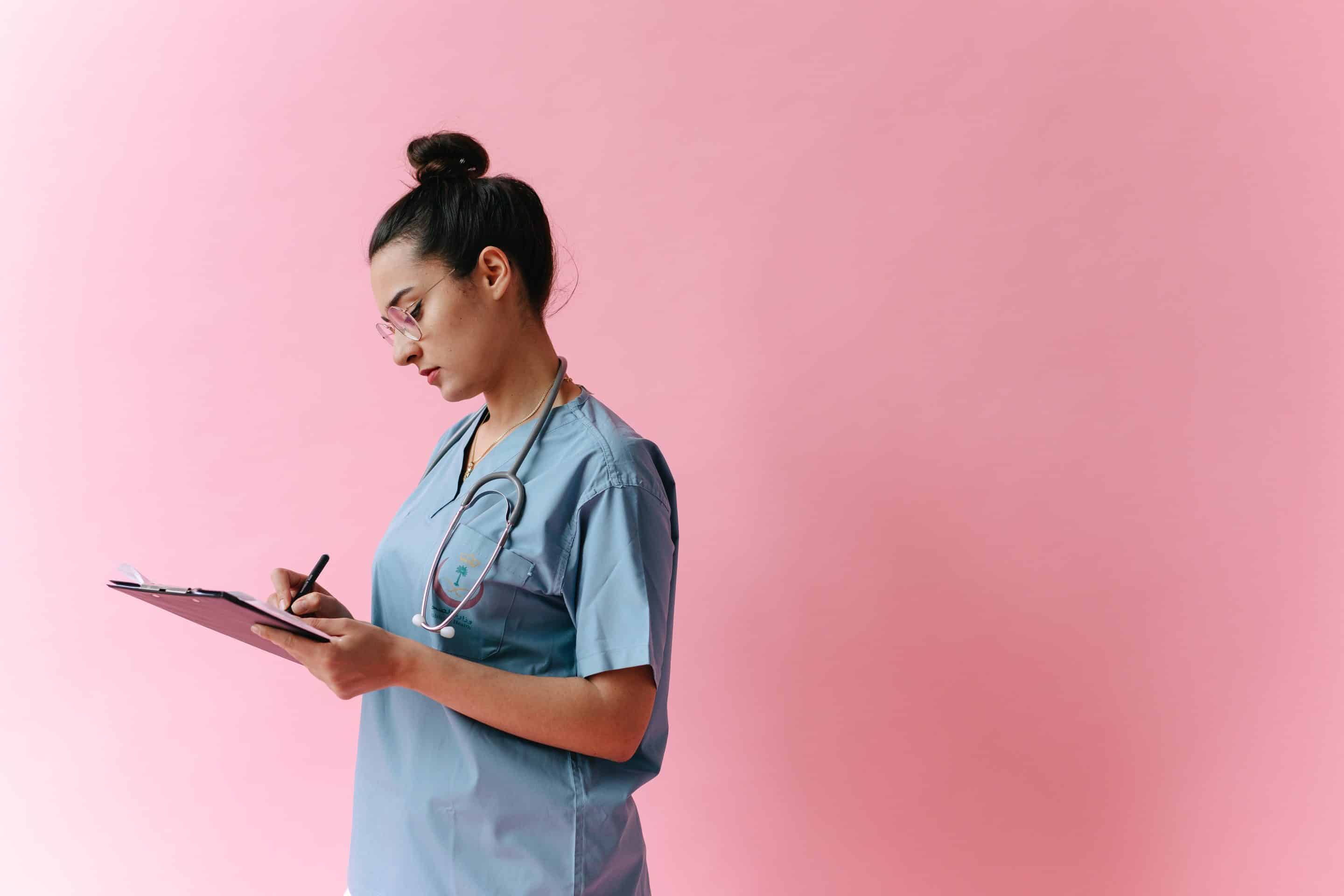 Does your employer not pay for CEUs? Don't worry, we have you covered with nine options that help you fulfill continuing education. Every CEU in this post is entirely online, and most are completely free. (If any require a small payment or have paid options, we'll let you know!) Just scroll through these sites and see what interests you! All you need to do is enroll, complete the courses, and pass the test. In some cases, there is no test at all! Free, online, and no test. Does it get any better? We've got your back! Each one has a different system, so we'll keep you informed on how to complete the course.
Table of Contents
CEUs vs CEs vs CMEs vs Contact Hours: A Quick Note on Terminology
Before starting, let's define a few important terms we'll use in this post:
CEU: A "CEU" (for continuing education unit) is a measure of how much-continuing education you have completed. One unit (one CEU) is equal to 10 contact hours.

CE: A term that simply stands for "continuing education."

CME: A term for "continuing medical education" that develops or maintains your skills and professional knowledge.
Unfortunately, education providers use these terms interchangeably. To make it easy on you we'll do our best to use the terminology found on the education provider's site. This should reduce confusion for anyone who clicks on the site and sees different words. Ready to find free nursing CEUs? Then let's dive in!
1. Free CEUs from NursingCE.com
Nursing CE has several options that you can choose from, including many paid courses. However, they offer three options that are available for free. The three free options are:
Avoiding Nurse Burnout Nursing CE Course

Nursing Evidence-Based Practice Nursing CE Course

Tobacco Dependence and Treatment for RNs and LPNs Nursing CE Course
To complete CEU requirements through this site, you can simply pick one, review the content, then take the assessment test. You'll need a score of 80% or higher to pass. Once you pass the test, you can simply download a completion certificate, which is also free. Each free course from Nursing CE provides one ANCC contact hour. This means that you will need to supplement CEU requirements from other sources. You can enroll in their free options and, if you like the classes, sign up for paid packages. A package with 390 ANCC contact hours is available for $125, while smaller packages (about 59 CEUs) are available for only $69.
2. Free Nursing CEUs from Nurse.com
Nurse.com also offers free online continuing education for nurses, providing one more free option than the previous site. (Not a huge difference, but it's something!) Free online CEU courses from Nurse.com include:
Parental Stress in the NICU

Individualizing Management of Uveitic Macular Edema – Clinical Updates in Treatment Options

Trauma Assessment and Management

Beyond Me: Navigating the Mental Wellness of a Team or Loved Ones
Each one of these courses provides between 1.0 to 1.25 ANCC contact hours. They also require a test, but fortunately, you only need a 75% score to pass. Like most of these sites, this resource also sells CEUs. This is available as a subscription, which could bring long-term savings if you use the site a lot. Instead of packages, you can sign up for a subscription for $49.99 a year. This gives you access to the full nurse.com library of over 600 ANCC-accredited courses.
Wish You Had an Employer to Pay for Your CEUs?

3. Free Nursing CEUs from Incredible Health
Honestly, this might be your new favorite CEU website! They have one of the largest resources for free online CEU courses, and there is no testing! Using Incredible Health, you can complete ANCC-accredited education courses that are 100% free and available entirely online. To use this resource, you simply create a free account and access a large online library. You then complete classes that are approved by the ANCC in all 50 states and get instant access to your certificates. Their vast library includes:
A Nurses Guide: How To Deal with Difficult Patients

Infection Control and Barrier Precautions

A-Fib and Stroke Risk

Alzheimer's Nursing Care

Managing Conflict in a Nurse Leader Role
Resources from Incredible Health are available to all US nurses, including Registered Nurses (RNs), Licensed Vocational Nurses (LVNs), and Nurse Practitioners (NPs). Each course is available at a different time requirement. Some courses fulfill one contact hour, while others fulfill as many as four. Once the course is complete, you can immediately download your certificate. No testing is required! This site is an amazing resource for nurses. They not only have free online CEU courses but also provide an amazing collection of resources. They compile nurse discounts from major companies, provide salary information, have resume guides, and much, much more.
4. Free Nursing CEUs from The American Association of Critical-Care Nurses (AACN)
This is one of the most respected organizations in nursing education. They accredit programs for nurses and provide some educational opportunities, including free online CEUs for nurses. The AACN provides unlimited free CE hours with over 300 different offerings in their massive library. These programs are available for free, but you need to sign up for a limited-time membership to access their CEU options. As a member, you'll have access to a wide variety of information that will help you become a more effective nurse. Available courses after you sign up for a free temporary membership include:
Key Concepts for Trauma Care in the ICU and PCU, Part 1

Infusing Well-Being into the Workplace Through Brief Mindful Self-Compassion Practices

Role of the APRN in Promoting a Healthy Work Environment

Hemodynamics of Mechanical Circulatory Support Devices
Most of the courses from AACN cover one contact hour, although some will cover 1.1 or 1.25. They are available as videos, articles, webinar series, and more. Permanent membership is available for only $78 a year, which comes out to less than $7 a month.
5. Free Nursing CEUs from NurseCEU.com
Nurse CEU acts as a searchable database for free online CEU courses. They compile a collection of courses that are available through different websites, including some of the websites listed in this post. Nurse CEU provides a variety of courses that develop a nurse's understanding of the profession and medical science. They come in courses that provide as little as .75 contact hours, although some free online courses are as large as 2.75 contact hours. Available courses through Nurse CEU include:
Child Development, Resilience, and the Environment

Early Combination Therapy in the Treatment of Type 2 Diabetes

Product Quality Verification of Dietary Supplements

Treating Diabetes Beyond A1C: Considerations for Cardiovascular Protection
To complete certification through this resource, you will have to complete the activity and complete an evaluation. Then you only have to pass the post-test with a passing score. Some courses may have no test. Required scores will vary (again!) depending on the course. Some require an 80% score, while others require 75%. Requirements change widely because this site collects free online CEUs from various locations.
Get 27+ CME Credits from The Resume RX (That's Us!) Included With Our Dream Job Roadmap

6. Free CEUs from MyCME.com
With an assortment of over 50 videos, myCME can help you complete continuing education while allowing you to learn in a way that is fast, reliable, and affordable. (And by "affordable," we mean free!) They offer featured CE courses, as well as an assortment of over 50 different courses as videos, monograms, and other formats. Courses allow you to complete between 0.25 and 2.5 credits. Free courses available through myCME include:
Dismantling Disparities in Primary Immunodeficiency Care: Building Blocks to Equity

Early Identification and Diagnosis of Childhood Interstitial Lung Disease

Advancing the Treatment of Patients With Myelofibrosis
Successful completion depends on the program. For example, the course titled "Advancing the Treatment of Patients With Myelofibrosis" does not require a test. However, the course "Early Identification and Diagnosis of Childhood Interstitial Lung Disease" requires you to take a post-assessment test with a 75% score. If you like the program you can sign up for an account and pay for premium courses, which can cost as much as $649. However, there are cheap CEU programs that cost around $40.
7. Free CEUs from Intiva Health
There are many options to choose from with Intiva Health. Their options include both premium and free nursing CEUs that are delivered completely online. They make the process easy by allowing you to filter courses by state and specialty, as well as accreditation. This allows you to find useful CEU programs quickly. They also allow you to track your progress so you know how many hours you need before reaching the CEU requirement. To access free courses, you'll have to sign up for their program. This will simply involve providing your name and email address. Intiva Health will then search the nursing registration database to make sure you are qualified to access courses. Once this process is complete you can start fulfilling your continuing education requirements immediately! To receive credit for some courses, you only need to complete the free program. Others may require a passing score on an assessment test. Usually, 70% is required, which is one of the lower requirements for passing. Paid courses vary in cost. The course titled "COVID-19 and Seasonal Flu 2020-2021: What Healthcare Professionals Need to Know," only cost $15, while "Incontinence: Patient Care and Treatment" costs $24. If you are going the paid route, this site provides a cheap option.
8. Free CEUs from Free Nursing CEUs
Despite the name, this site only offers two options for free nursing CEUs. These courses can only be found by scrolling through a large catalog of paid CEU courses. (Honestly, it's not the most user-friendly site for free CEUs!) That said when you do track down the courses you'll have two options to build your knowledge in the nursing profession:
Wound Types and Classifications

Laser Safety
If you like what you find with the free courses, you can purchase paid options to advance your training. These courses cover a lot of credits and hours. Some are worth 50 credits of continuing education. The courses require a test at the end. To pass you need a score of at least 80%. But if you fail, don't stress! You can retake the test all over again! However, they recommend you review the course content before retaking. Seems like a smart suggestion!
9. Free and Cheap CEUs from Nurse CE 4 Less
As "Nurse CE 4 Less" implies, there is a small cost to most of their courses. But Nurse CE 4 Less does provide one free option:
"Drug Diversion Training," is completely free and covers a solid three credit hours.
If you like this program you can enroll in other courses that cost as little as $14. Even better, you can get unlimited courses for only $59. They have more than 643 CEU hours available to nurses, which can be accessed through 255 different courses. The most attractive feature of this program is that there are no tests required. To receive credit, simply confirm your requirements, complete the materials, and print your certificate. It's just that easy to reach your CEU requirements!
About Post Author