One of my biggest pet peeves is when I see that fellow nursing professionals have NO IDEA how to write their nursing credentials. You know, the order in which you should list the letters after your name.
I see credential errors everywhere: on lab coats, business cards, even journal publications.
In this article, we're going to make sure you know exactly how to write your nursing credentials for any circumstance, so you never question the order to list the letters after your name again. Ready?
The Right Order to Write Your Nursing Credentials
The simplest way to explain this is:
Degree
License
Certification
But there are a few nuances to know as well, when it comes to which letters to add after your name, and the order in which they appear. For example, there's no need to list both your Bachelor's and Master's degrees; go with the highest degree, unless they are different but related. So if you are an advanced practice nurse, you no longer list your RN.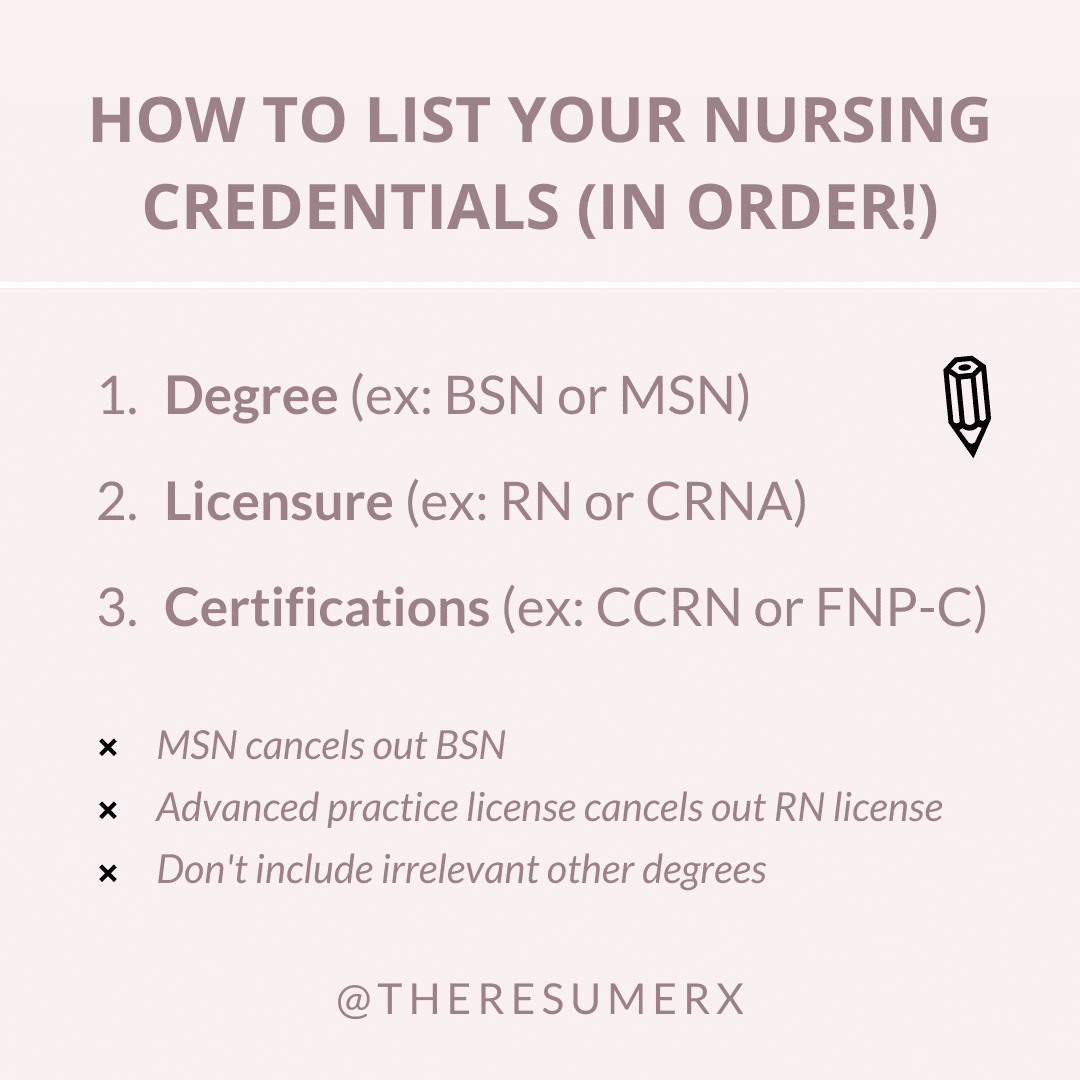 Nursing Credentials When You're Still In Nursing School
Another common question I get asked when it comes to nursing credentials and how to refer to yourself as a nursing professional, is from nursing students. They often ask: how do you refer to yourself when you are still in school but sending out your résumé?
I answer these types of questions directly in this video on Instagram, but in general, you should not use the letters of your degree or credential until you have officially received them!
If you have not graduated or sat for your nursing boards yet, I like to use the word "candidate" to reflect the fact that you will SOON be legitimate.
So in that case, the formula to do so might look like this:
[Your future role] + Candidate
Your future role] + Student
Student + [your future role]⠀
But, as an example, if you've graduated with your BSN but have not yet passed the NCLEX, for example, your name should read as:
Your Name, BSN⠀⠀⠀⠀⠀⠀⠀⠀⠀
Registered Nurse Candidate⠀⠀⠀⠀⠀⠀⠀
Let me know any questions below, or feel free to practice with your current (or anticipated) alphabet soup!
If you need another pair of eyes to determine if you wrote your credentials correctly feel free to connect with us!

Frequently Asked Questions About Nursing Credentials
How do I write my R.N. BSN credentials?
The preferred order of credentials for all nurses, regardless of employment setting, is as follows:
Highest degree earned.

Licensure.

State designations or requirements.

National certification.

Awards and honors.
How do you write R.N. after your name?
Sign your full name, followed by either "R.N." or without the punctuation, "RN." Use your full professional name when writing it.
How do you list R.N. credentials on a resume?
List them fully without acronyms. For licenses, write in this order: license type, licensing state/body, license name and number, nurse license compact, and expiration date. For certifications, write the name, followed by conferring organization, expiration, and certification number.